Recommended Global Chemistry Conferences
Asia Pacific & Middle East
GIC 2020
About GIC 2020
Conference Series LLC Ltd is bringing forth GIC Meeting in 2020 at Amsterdam, Netherlands. We organize Chemistry Meetings in the fields related to Medical, Pharma, Science, Engineering and Technology.
Details of GEC Meeting 2020 in Netherlands:
| | | |
| --- | --- | --- |
| Conference Name | Place | Date |
| | London, United Kingdom | April 17-18, 2020 |
After successful completion of Chemistry conferences 2019 all over the world, Conference Series wanted to proceed with its Chemistry meeting in London, United Kingdom.
In this well suited event, Conference Series welcomes the members from everywhere throughout the globe to partake in the Green & Industrial Chemistry Congress in London, United Kingdom during April 17-18, 2020.
GIC 2020 is trending under the theme "Create a New World with Revolution of Green & Industrial Chemistry" which brings together eminent Academicians, Scientists, Research Scholars, Business Executives & Students to share their experience, gain and evaluate emerging technologies in Green & Industrial Chemistry across the globe.
Importance & Scope:
Green chemistry is an approach to the design, manufacture and use of chemical products to intentionally reduce or eliminate chemical hazards. The goal of green chemistry is to create better, safer chemicals while choosing the safest, most efficient ways to synthesize them and to reduce waste.
Environmental chemistry focuses on the presence and impact of chemicals in soil, surface water, and groundwater. Environmental chemists study how chemicals - usually contaminants - move through the environment. This is referred to as chemical "fate and transport". They also study the effects of these contaminants on ecosystems, animals, and human health.
Industrial chemistry is the link between the research and industrial-scale chemical engineering. Industrial chemists make use of their broad understanding of chemistry and environmental sustainability in areas like pharmaceutical companies, polymer manufacturing, petrochemical processing, food science, and manufacturing industries.
Why to attend?
GIC 2020 provides a unique platform for the discussion of innovative research on the development of alternative green and sustainable technologies. Green chemistry is the utilization of a set of principles that reduces or eliminates the use or generation of hazardous substances in the design, manufacture and application of chemical products.
Green Chemistry is at the frontiers of this continuously-evolving interdisciplinary science and publishes research that attempts to reduce the environmental impact of the chemical enterprise by developing a technology base that is inherently non-toxic to living things and the environment. Submissions on all aspects of research relating to the endeavor are welcome.
Target Audience:
Academic Professionals
Scientists
Research Scholars
Residents, Fellows & Post Docs
Students
Agro, Bio, Chemical, Medical, Pharma, Technology Companies
Business Executives & Directors
Sessions/Tracks
In addition to Sessions/Tracks, papers dealing with new areas of science and technology that fit the broad scope and objectives of the Congress are encouraged.
Key Dates/Deadlines
Abstract Submission: Now Opens
Registration: Now opens
Dead line for Abstract submission 1st phase: For oral November 30, 2019 & For Poster December 15, 2019
Deadline for Early bird Registration: October 17, 2019
Market Analysis
Global green chemicals market size will grow by almost USD 50 billion during 2019-2023, at a CAGR close to 10%. In the last few years, toxic chemicals have been facing bans due to the generation of hazardous chemicals. In such a scenario, green chemicals are playing a significant role, as they are designed to reduce or eliminate the use or generation of hazardous substances. Moreover, in the making of green chemicals, green chemistry applies across the life cycle of a product. Hence, it is known as sustainable chemistry. Therefore, several manufacturers are involved in the process of innovating chemicals to fulfil the needs of the client. This is accomplished using renewable energy as much as possible, to create a comprehensive impact on the environment.
High demand from emerging economies
The global green chemicals market is recording high growth in emerging economies such as India, China, Brazil, Russia, and Indonesia. Many manufacturers of green chemicals are shifting their manufacturing operations to these countries due to factors such as the availability of land, economical labor, low transportation costs, and favorable regulations promoting the use of green chemicals. Also, these markets are characterized by increased spending on pharmaceuticals, automobiles, electronics and electrical, and consumer goods. Therefore, the global green chemicals market is expected to grow significantly in emerging economies during the forecast period.
This statistic displays the market size of the green chemistry industry worldwide in 2015, with forecasted figures for 2016 to 2020. The global renewable chemicals market size in 2015 was some 51.7 billion U.S. dollars, and it is forecasted that by 2020 it will be some 85.6 billion U.S. dollars.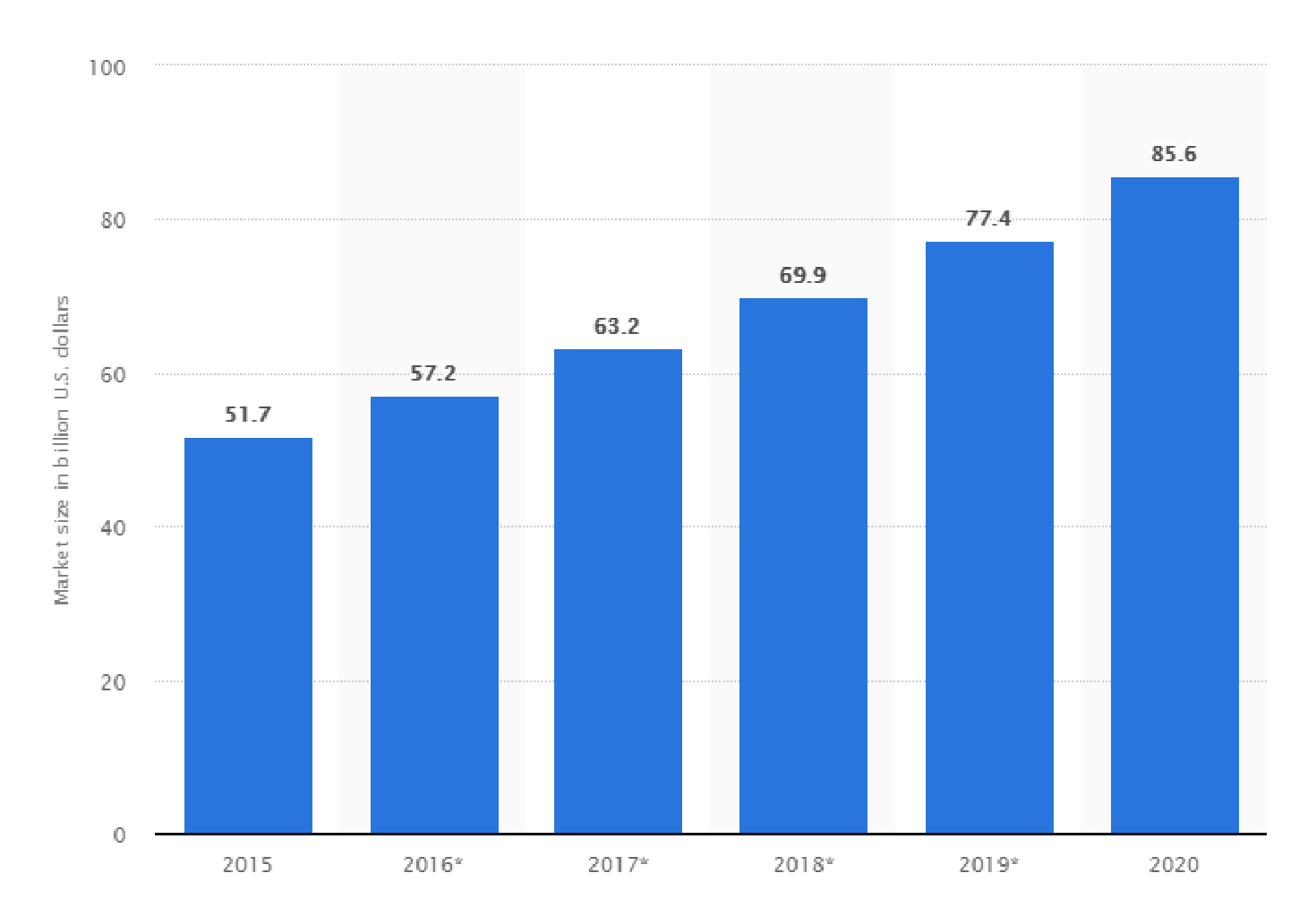 The chemical industry is one of the world's largest branches and has significant influence on many other industries. Total global chemical shipments are worth an enormous five billion U.S. dollars. Companies like Dow Chemical, DuPont and LyondellBasell from the U.S., BASF and Bayer from Germany, and Saudi-Arabian Saudi Basic Industries are the heavyweights of this branch.
The petrochemical industry largely represents organic chemistry. It is based on carbon compounds, mainly derived from crude oil and natural gas. Many products used in everyday life include organic substances generated by the petrochemical industry. Colorants, plastics, coatings, detergents, synthetic fibers and medicines are the most prominent examples.
Inorganic chemistry forms another important part of the chemical industry. It includes the chemistry of carbon-free compounds. Historically, inorganic chemistry meant substances that were not created by organic life. However, this distinction is far from clear, because it is possible to produce organic substances from inorganic compounds. Inorganic chemistry is the base for many technical areas like semi-conductors and metallurgy.
Agricultural chemistry is a segment that has become more and more important with the rapid growth of the global population. In the meanwhile, world acreage for food supply is shrinking, because many areas are used for the production of commodities for biofuels. This dilemma can only be managed by the extensive use of agrochemical products such as herbicides, insecticides, fungicides and fertilizers, to maximize yields per hectare. Trends show that agrochemical companies are becoming increasingly involved in biotechnology and genetic engineering.
To Collaborate Scientific Professionals around the World
Conference Date April 17-18, 2020
For Sponsors & Exhibitors